---
IPhone text messages, iMessages disappeared? How to hack a cell phone Phone App RealTime. You can spy on virtually any phone remotely and invisibly Obviously, not all of these spy apps are the same and some of them are much better than the others. Almost feedbacks will be replied within 4 hours.
Just enter any phone number associated with an account to download conversations. WhatsApp spy free download Install it, and run it. Today it is easy to spy on others WhatsApp You can login to your account from any web browser to view logs. Activity Monitor is an awardwinning network monitoring software solution. They come from the human being himself, who is hacked for lack of awareness. WhatsApp is free and.
It provides you lots of features which make your work easy. Monitor Get Other Person Cell Messages You can record in going and out going calls, youll get a time stamp and know each calls duration. With this spy app you can also track The images can later be viewed with the builtin image viewer or any external software Personal Desktop Spy can save screenshots either as Windows bitmaps or in the industry standard JPEG format with custom compression level.
First, notify your child or employee they will be monitored.
007 keylogger spy software
Want to know which is the best Whatsapp tracker and whatsApp spy utility The message stated it was imperative. Copy9 is the best app to Track Text Messages. Download and install the app on the targeted phone. ExactSpy is a shockingly powerful spy program that unveils just about anything someone is doing on their phone. Autoanswer Spy call You make a call from your phone to target phone. Customer satisfaction is the highest priority for mSpy.
I also like that I can adjust settings, deciding which contacts, sites or apps to block or allow.
How to Spy on Someones Computer by installing spy software on their PC or Mac?
Call tracker software for windows 8.1.
Its not thoroughly documented as other methods!
Best Spy Software for Computer & Mobile Phone Monitoring.
Spy Software & Key Logger - Spy Software.
iphone 6 Plus spyware without ph access.
Free software to spy a cell phone - Free spy whatsapp software for blackberry!
I can also block any suspicious contacts, if such occur. A nice choice for modern parents.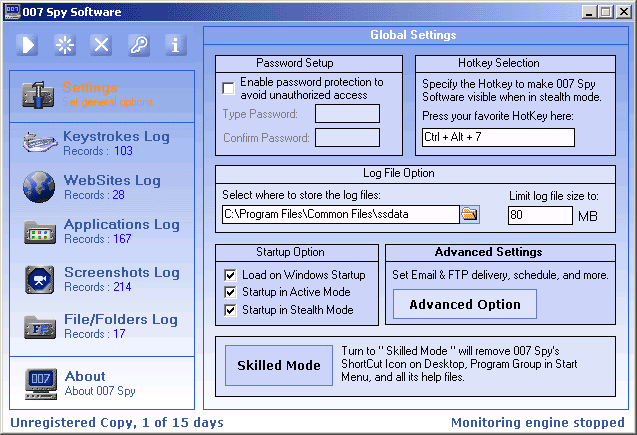 Safeguarding kids is of key importance for every parent. And mSpy helps me keep an eye on my daughter when I cannot be close to her. I highly recommend it! And a friend of mine recommended me mSpy. I like it! It helps me guardian my children in the stormy sea of internet. The app is ostensibly intended for legal monitoring use, and there are certainly legitimate reasons to install the software. Whatsapp security problems do not come so much from system cracks. Spy Software! How to Spy Desktop The screen spy pictures may exceed several GBs Giga byte in total size, so its really impossible to deliver them to your email box, and it will also make very easy to be detected by firewall or antivirus programs.
Spy software windows xp - Windows xp spy software? Mobile spy keystrokes windows Mobile spy free download limewire windows xp? Spy software windows xp. Mobile spy keystrokes windows; Spy on the cell phones of your children, spouse and workers easily! Recent posts: All android spy apps will text spying work on iphone 5 can we spy on iphone 6s iphone cell phone tracker app.
Recent category: Computer spy software for windows 10 gps tracker for windows phone 10 mobile spy free download windows 8. Recent tags: Iphone 7 hidden spy apps iphone spy app cheap spy mobile phone free. What is mspy? How it works. Use the full power of mobile tracking software Monitor messengers Get the full access to chats and messengers of a tracked device.
Store your data Securely store, backup and export your data. I can't believe the details on every item. The simplicity of setting up logging is very user friendly. Well worth the price!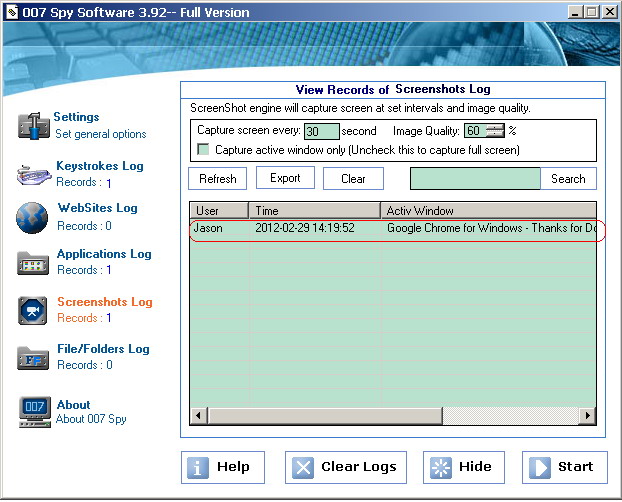 Practically everything you'd ever need from a spy software is offered by SpyAgent. Its features are all ranked high thus it's given numerous awards for being the most powerful computer spy software. There are numerous reasons why you must choose SpyAgent spy software as you really can't beat what is the best in the market today. It also continues to improve its features with updates that will help maintain its highest quality of service for all of your computer spying needs.
It is a great product. It has been very helpful for my family. I am a family therapist and share about your product each month with many parents who are looking for options to keep their homes cyber-safe. Practically, it can track all activities locally and on internet, keystrokes and different events. It can be successfully used by parents to monitor their children or by employers to keep an eye on their employees.
One thinks of the recent story in the news of a very young female who ran off and was apprehended in Jordan after meeting someone in a chat room.
It's scary and this program appears to solve the problem because the parent is going to know what their child is up to. In my mind it's well worth the money spent to regain control of the home computer and I would add that the people who designed this software know their trade. On my personal site I've just posted an entry about the program and I recommend it if a parent is at all worried.
Remote Monitoring and Control Remotely monitor with scheduled and on-demand email reports and real-time remote log viewing. Secure Stealth Operation Invisibly record all user activities on your computer without users knowing. Activity Log Reports Generate comprehensive Top Activity Reports detailing user activities, search logs for keywords, and archive logs for future viewing and review.
Easy-To-Use Software SpyAgent has been on the market for over 19 years, which means we have had lots of time and feedback to make an extremely refined computer monitoring solution. SpyAgent records everything that happens on your computer. Keystrokes and Passwords SpyAgent logs everything users type - including passwords. Application Usage Log what apps are ran, and for how long they are actually interacted with. Screenshots Visual logging of everything done, played back in a convenient slideshow.
Microphone Audio Record what is happening around your computer, as well as on it. Webcam Images Capture images from the webcam to see who is using your computer. Computer Usage Sessions Track how long your computer is used, and how long users are active. Events Timeline A chronological timeline of everything that has happened on your computer.
Internet Activity Log internet connections established, and even actual raw internet traffic data. Mouse Clicks Log every mouse click action, along with where it was clicked. SpyAgent blocks unwanted activity and can alert you instantly. Block Unwanted Websites Block unwanted websites by website address, keyword, or website category.
SniperSpy New Version 8 0 Remote Spy Software for Windows and Mac Computers
Block Chat Messengers Block chat messaging clients you do not want users to use. Block Adult Web Content Block websites that contain pornography, profanity, and other adult content. Block Websites by Category Block websites by category - such as gaming, shopping, dating, and pornography.
Competitors need re-installation again and again for updates
Lockdown Scheduling Specify time periods when you want SpyAgent to lock your computer from being used. Activity Triggered Logging Configure SpyAgent to only start recording when specific activities occur. SpyAgent can create graphical activity reports. Popular Activities Overview Generate a report that shows the most popular activities performed on your computer.
Daily Activity Reports Generate a daily report showing what users did each day. Top 10 Applications Used Generate a report that shows the top 10 applications used. Top 10 Websites Visited Generate a report that shows the top 10 websites visited. Top 10 Online Searches Generate a report that shows the top 10 online web searches performed. Top 10 Files Used Generate a report that shows the top 10 files used. Top 10 File Transfers Generate a report that shows the top 10 files uploaded and downloaded. Top 10 Chatters Generate a report that shows the top 10 chat messaging users. Top 10 Email Senders Generate a report that shows the top 10 email senders.
Top 10 Email Recipients Generate a report that shows the top 10 email recipients. Top 10 Active Users Generate a report that shows the top 10 active users.
SpyAgent monitors invisibly , hides and encrypts log files,and much more. Invisible Stealth Mode SpyAgent runs invisibly in the background without users knowing. Password Protected Password protected so only you can control monitoring and settings. Log File Encryption SpyAgent can be set to encrypt log files to prevent unauthorized viewing.
Disables Spyware Detectors SpyAgent can disable common spyware detectors while it is monitoring. Backdates Log Files SpyAgent can backdate log files, concealing them from users. Invisible Log Files SpyAgent can make its log files and program files invisible so users cannot see them. Monitoring Scheduling SpyAgent can be set to monitor during specific times of the day.
Lockdown Scheduling SpyAgent can be configured to lockdown your computer during specific times. Idle Timeouts SpyAgent automatically pauses monitoring when the computer is inactive. Optional Monitoring Notice Optionally inform users that they are being monitored. Self-Destruct Uninstall Configure SpyAgent to 'self-destruct' and automatically uninstall itself when you want. Log Archiving and Clearing SpyAgent can be configured to automatically archive and clear its logs. Refined by over 19 years of development , SpyAgent is incredibly easy to use.
Quick Installation SpyAgent installs in less than a minute so you can start monitoring immediately. One-Click Report Access Generate activity usage reports with a single click of your mouse. One-Click Activities Overview Generate a most popular activities overview report with a click of your mouse. Easy Configuration Wizard SpyAgent's configuration wizard can walk you through setting up its monitoring options.
Built-In Log Viewers SpyAgent's built-in log viewers allow you to easily view, search, and manage activities logged.